Mai Farms Inc is a farming corporation owned and operated by the second and third generations of the Mai family. Bill was born in the house that was near the present home that was built in 1972. Bill and Wilma formed the corporation in 1980. Son Carl has been a full time employee/officer since 1983. Fourth generation grandchildren are on the farm helping and learning from time to time. There are no other employees.

William Mai Sr. began farming this place in 1936 in the depth of the dust bowl and depression, having spent about a year on a northwest Greeley County farm a little more than 20 miles away. He had moved his wife and 3 sons west from the WaKeeney, KS farm in 1935. He and my mother, Martha were both first generation Germans from Russia where their parents had also been farmers.
Those were tough economic times for most Americans but even more so for those who lived in the High Plains Dust Bowl. In some of those years there was only enough feed and grain in a crop year to feed a few animals for milk to drink, a little meat to eat now and then, plenty of eggs to eat and hopefully enough cream and eggs to sell for basic grocery needs. The dust blew and when the rain came, much of it ran off the fields. The hot summers of 1935 and 36 caused higher evaporation rates so there was less usable water left for plant growth, less residue to prevent soil erosion.
Today we follow a three year rotation of wheat, corn and fallow. We do no tillage in the three year period except for about the last 60 days before wheat planting. This practice results in greatly increased residue levels that soften the falling rain, hold the winter snows and shade the soil from the heat of the sun.
It is our goal as stewards of this land to achieve high productivity while improving soil structure and fertility through sound conservation principles. We follow farming practices that are not destructive of natural processes but try to improve upon what nature provides. We hope that when the weather conditions that contributed to the dusty thirties and fifties return, as they surely will one day, we will have learned enough to avoid those horrible results of the "dirty thirties". index

The Kansas Water Appropriations Act was passed in 1945 to create a basic framework for water law in Kansas. Water in Kansas is dedicated to the use of the people of the state and to use it for other than domestic use one must either hold a vested right granted to users before June 28, 1945 or an appropriated right issued upon compliance of rules and regulations effected by the 1945 act and subsequent legislation.
In southern Wallace County there was only one well southeast of Weskan with a vested right pumping from the Ogallala Aquifer. The first appropriation right application was #493 in the spring of 1948 made by my father, William Mai. I worked with water from that well for 51 years. The well originally was rated at 1000 gallons per minute and when entered into the Water Rights Conservation Reserve Program after the 1999 pumping season it was still capable of 450 gallons per minute at the start of the season but would fall to 350 by the end of summer.
The well was one of the original observation wells for depth to water measurement by the Kansas Geological Survey in cooperation with the Groundwater management districts. A summary of the depth to water measurements are show in the table below. The shale or bottom of the water bearing sand is at 220 feet.
Water depth, observation well SW NE 8 15 39, Wallace
1/48 105.00

1/66 129.72

1/71 143.26

1/76 158.24

1/81 161.18

1/86 161.84

1/91 165.96

1/96 167.85

1999 last pumping year

1/00 174.38

1/01 175.38

1/02 178.28

1/03 180.13

1/04 181.77

1/05 183.16

1/06 184.4

4/07 186.63
www.kgs.ku.edu/Magellan/WaterLevels/index.html
It is worth noting that in the 7 years after we stopped irrigating, the water table dropped more than in any other similar time span. In the past 7 years we lost 12.25 feet of saturated thickness or 10.65% of the original 1948 saturation. With only 33.37 feet of saturated thickness remaining, that means that only 29% of the original 115 feet remains. One must recognized that the quantity of water remaining in the aquifer is not likely 29% of quantity even if the deeper sands hold more water because of their porosity. One must think of the aquifer as a lake above a dam in a river valley with most of its capacity in the upper half of the depth of the reservoir. The bottom half with its ravines and hills has much less capacity or volume. Most of the irrigation well locations, including #493, were chosen after drilling numerous test holes to find the deepest hole with the best sands.
My father was very interested in irrigation because many family relatives lived where irrigation was common, Colorado and the Garden City, Kansas area. His desire to irrigate was to ensure a feed supply for his livestock in times of drought. A side note: his birthplace was near Milberger, KS but his first experience with irrigation was near Fort Collins in about 1905 where my immigrant grandparents went to work the sugarbeet fields during the summer. He fell into an irrigation ditch and nearly drowned as a very small child where his parents were hoeing beets.
I went to college with the intent of going into a profession but decided by my junior year that irrigation provided more challenges and a more interesting career than any profession offered. I was an outdoor person who liked physical work and to be able to see what I had done. I took over the irrigated part of the farm with two wells in 1960 after Wilma and I were married. We rented more irrigated land until in 1969 we were farming land with nine irrigation wells. At that time we had two fulltime hired men and no time for anything. The decision was made to give up four of the wells and have no hired help.
This was about the time we started seriously thinking about water conservation. By 1975 it was becoming obvious that we were overusing our water supply and we had begun cutting back on water use by more crop rotations and trying crops requiring less water. We also experimented with timing of water application, reduced plant populations in corn and using fallow periods in the rotation. Many of the things we tried increased our efficiency because of better use of my own labor and lower input costs per unit of production.
In the 1980ís we started looking at practices such as no-till continuous wheat and more dryland acres. In 1985 we planted our first no-till dryland corn and soybeans as an experiment. The results were very surprising and encouraging. After about 5 years of success, some of it in very dry years, we began the final transition from irrigation to dryland farming by changing field shapes and sizes to suit dryland practices. Each year we reduced the number of hours of pumping time until in 1999 we down to pumping only 3 wells on small acreages. Our water rights have been enrolled in the Kansas Water Rights Conservation Reserve Program for a second term. index

In 1948 there wasnít such a thing as a self-propelled sprinkler system. When we started irrigating the only machine we used was a Chattin Double Wing Ditcher. It made a beautiful ditch, was pulled with a tractor and operated by a man on back. At first we used canvas dams that rotted if left in the ditch a few days and made cuts in the side of the ditch to run water into borders or rows. Next we used translucent plastic 4?X 2?siphon tubes, treated canvas dams that lasted a season with proper care, and in a couple of years were able to get 6?X 2?aluminum tubes and coated nylon fabric dams with adjustable crossboards to allow controlled flow over the top of the dam. We also used various smaller diameter siphon tubes as small as 1?for controlled flow down the furrow. By 1960 we had begun using gated pipe and soon after began laying underground pipe with well-located risers. By 1970 we had pretty much converted the whole farm to closed systems of underground and gated pipe. We used these systems until we stopped irrigating in 1999.
Others who planned to continue irrigating in the future upgraded their operations first with high pressure water drive center pivots by Valley. As pumping costs increased water drives where replaced with electric and hydraulic drives by Valley, Zimmatic, Reinke, Lockwood and many others. The biggest change came with the conversion to low pressure nozzles on drops to greatly reduce power requirements, and most recently computer and wireless controls to more precisely control water distribution. index

The first two tower self-propelled sprinkler system was built by Frank Zybach near Strasburg, Colorado in 1948 and was mounted on metal skids worked by two-way water control valves. He continued to build and perfect his idea and was granted his patent in July of 1952. By then he built a fully functional a five tower water drive system. He realized he needed help in marketing his product so he moved back to his hometown of Columbus, Nebraska and got capital from car dealer, businessman A. E. Trowbridge.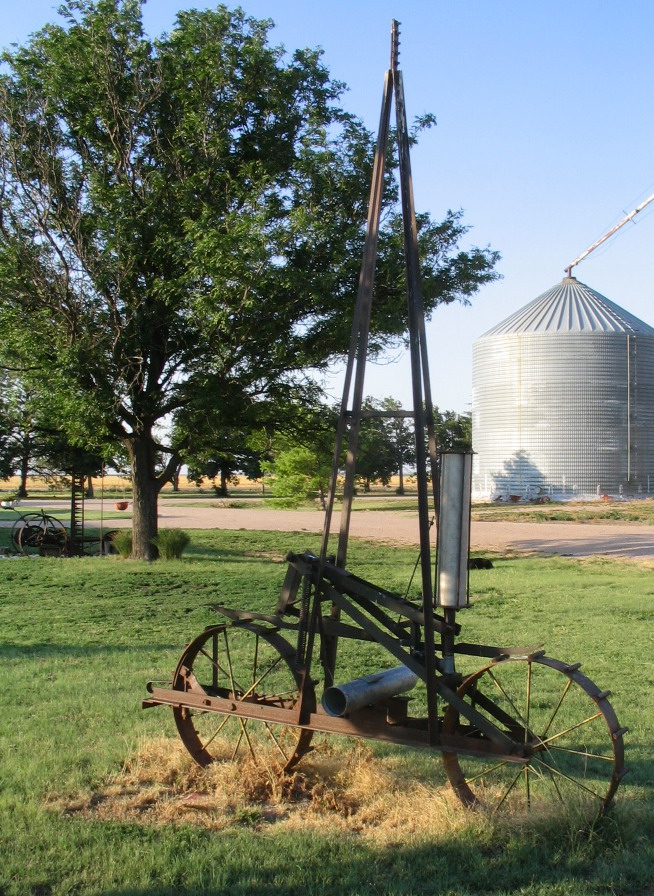 Our local John Deere dealer somehow became interested in the Zybach invention and set up a field demonstration on our farm sometime in the spring of 1954. The system apparently was one of the very first built because it had no identifying marks and the pipeline was suspended less than three feet above the ground. According to information found in various publications Zybach and Trowbridge manufactured ten systems from 1952 to 1954. In the fall of 1954 the partnership agreed to license their center pivot patent to Robert Daugherty who had a small business on a farm west of Valley, Nebraska. The name of that company was Valley Manufacturing, now known as Valmont Industries, Inc. Valley re-engineered the system taller, sturdier and more reliable and over time introduced new drive systems.
On the day of the 1954 demonstration it was very windy and the relative humidity was extremely low. The soil conservation service had set up rain gages to record the effectiveness of the system in delivering water to the soil. The sprinkler was set up to deliver one inch of water, but because of the dry air less than one-fifth of an inch was measured in the gages. My father was not impressed, so the system was removed.
Ironically we purchased a farm northwest of Sharon Springs near the Smoky Hill River in 1986 and were surprised to find stacked up in a weed patch the five towers from that system demonstrated on our farm in 1954. It turned out that a young farmer had purchased that particular farm a in January of 1955 and later bought the five tower system to irrigate alfalfa.
We set up one of the towers in our yard and made three available to Valley dealers for display. The fifth tower was badly damaged and was salvaged. The one on display at Western Kansas Valley in Sharon Springs has been refurbished. Index